How do we share stories that consumers may not be aware exist? How do we reach people who haven't discovered there's more to learn? These were some of the great questions to come out of the Rabobank Farm2Fork conference in Sydney last week.
At Think Digital, we believe everyone has a story to tell and a perspective worth seeing. By engaging participants in immersive technologies and making them part of the story, users feel they have skin in the game and are instantly more connected to the subject matter being explored. Farm2Fork brought together agriculture leaders and innovators to discuss sustainability, industry trends, new developments in technology, the power of data and more. There were a lot of stories to be told!
Connection
Storytelling is essential to culture, and has a particularly rich cultural history here in Australia: passing knowledge, ideas and experiences between people, histories, and time. As humans, we are wired to connect with stories; they help us understand complex ideas and empathise with others. As such, it's also essential to agriculture, and the ways in which the stories of food and fibre, land, and farming are told are expanding.
At Farm2Fork, we were delighted to welcome over 200 people onto Rocky the Think Digital Coach, our mobile VR classroom, and transport them to potato, lamb and dairy farms across Australia. These kinds of experiences allow consumers and stakeholders to see firsthand what life is like on different farms and to understand the challenges and opportunities that farmers face.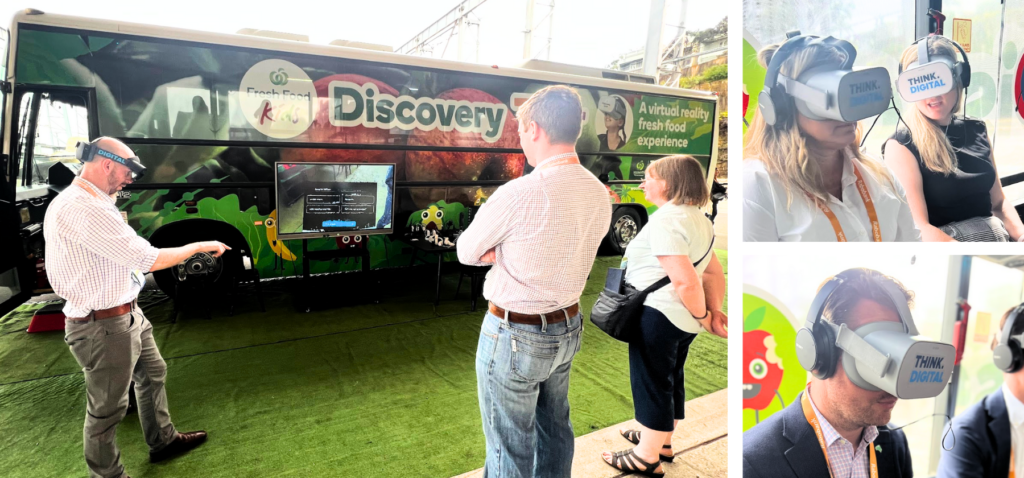 Impact
The greatest storytellers can take their listeners to another world, immerse them in experience and deliver significant messages. Virtual reality has the potential to build bridges in disconnected conversations, improve relationships between communities and enable more informed decision-making in and around the agriculture industry. Be it learning how food got to your plate, what the latest technology trends are or what exciting new careers might await in the agriculture industry, there are huge impacts to be had by communicating well.
So, how do we share stories that consumers don't necessarily know exist? We create immersive experiences that transport you to another world, often resulting in a big "WOW!" or "That was so cool!" when the headset comes off. Even better, we broaden horizons and get people thinking "I wonder where that came from… when did it grow… how did it get here…" for days, weeks or years after the seed has been planted.
At Think Digital, we are committed to using innovative technologies like virtual reality to tell the stories of Australian agriculture in new and engaging ways. Learn more about our work and join us in growing together.
Thanks for having us at Farm2Fork, Rabobank!